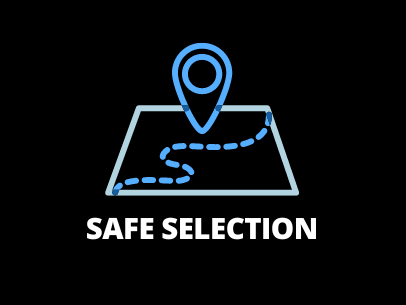 Safe Selection
A platform for the safety of women and travelers. It aims to make travel safer for everyone.
Shubham Pratap's 90 days of Tempo
Sun
Mon
Tue
Wed
Thu
Fri
Sat
Safe Selection's Motivation
PROBLEM : As a society, safety is a primary concern for many people. As we all know, incidents of women being harassed or harmed by cab drivers are unfortunately becoming more common. It has become a growing concern in recent years, with many women feeling unsafe while using these services. While many cab companies have tried to implement measures to improve safety, such as background checks and GPS tracking, these efforts have not been enough to prevent incidents from occurring. It's a disturbing trend that highlights the need for better safety measures for women and travelers when using transportation services. Whether it's a matter of finding a trustworthy cab driver, a safe hotel room, or a location that meets specific needs, people want to feel secure and confident in their choices. So the question is how are we going to know that the cab we are going to book or any location we choose to visit is safe for us? SOLUTION : The answer is to create a community with more and more people who share their experiences and help others stay safe. I believe that by bringing people together, we can create a world where everyone can travel with confidence. That's why I have created a platform with the aim to make traveling safer for everyone. It allows users to share their experiences and help each other make informed decisions about their safety while traveling. The idea behind Safe Selection is simple: by providing user-generated reviews and ratings about cab drivers from other users past experience, travelers can make better decisions about their safety and will be able to choose the right cab drivers. The platform also includes ratings and reviews for hotels and other travel services, helping travelers to make informed decisions about where to stay and how to get around. The idea is to create transparency between travelers and service providers. By having access to past user experiences, travelers can make better decisions about their safety and avoid situations that could potentially put them at risk. The platform also allows users to report any incidents or concerns, providing an additional layer of protection for all users. While going to restaurant or ordering online food, we used to check ratings and then we decide if its a good restaurant or not or the online food is good in taste or not. Imagine having a platform where users can check reviews and ratings of any cab driver or other location before going or confirming the ride and able to know if previous travelers felt safe or not, they recommend it or not. It will be useful for everyone. We all know how important it is to feel safe when using transportation services or going out, and I believe that Safe Selection can help make a difference. It has the potential to make a real difference in the lives of women and travelers. By providing a platform that promotes safety and transparency, we can help to create a more secure and welcoming environment for everyone. However, we also recognize that we are still in the early stages of development and there is much work to be done to ensure that the platform continues to meet the needs of our users. Moving forward, we will continue to work hard to improve Safe Selection, including adding new features and functionality, expanding our community, and building partnerships with other organizations and companies that share our commitment to safety. We believe that by working together, we can make a real impact and help to create a safer and more inclusive world for all. So let's work together to create transparency between travelers and drivers, and build a community of concerned and informed individuals. Next time you book a cab or decided to visit a hotel/location, come to our platform write the taxi number/location name in search bar and check past travelers ratings, reviews and their highest vote if its recommended for you or not. Also i request you all that everytime you visit a place, kindly come on www.safeselection.in and add your review to our platform so it will help others to know the safe places or cab drivers. Join Safe Selection today and help us create a safer world for all women and travelers.
Safe Selection's Toolbox
0 tool
The project owner hasn't added any tools to their toolbox yet!